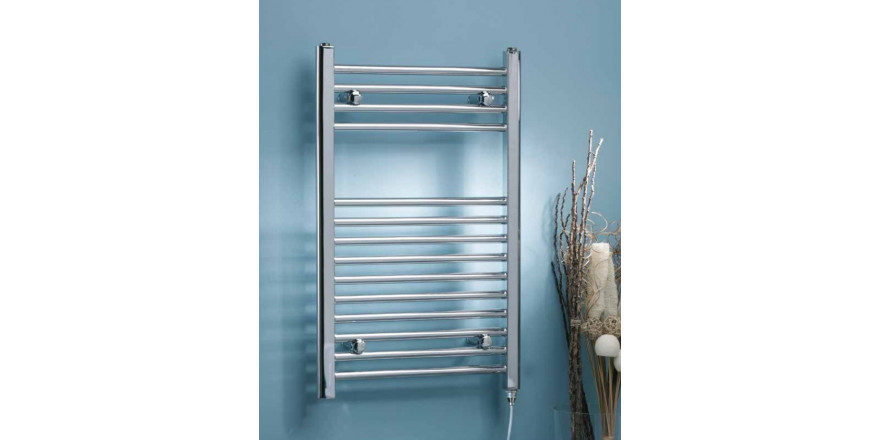 If you have purchased an electric only towel rail or radiator from Designer Bathroom Store you will of received an electric conversion fluid pack with your item upon delivery.
These steps below need to be carried out before the fitting and switching on of your item.
We always recommend a qualified tradesman carry out any works however if you are planning on completing this fitting by yourself this guide will take you through step by step in completing this correctly and safely
With all of our electric towel rails and radiators we will supply the electric conversion pack which will consist of the following -
1 x Bottle of anti-corrosive/rust inhibitor fluid – this protects your towel rail from any corrosion. The fluid is also anti-freeze too.
1 x Element – This will either be a standard or thermostatic element depending on the option you chose when placing your order. The wattage size of your element all depends on the size of your towel rail / radiator. We will only provide the element suitable for your item size to ensure no under heating or overheating
1 x Blanking plugs and end caps – The amount will all depend on your towel rail/radiator
Method
Firstly you start by taking the blanking plug and screwing this into the opposite side to where the element will be fitted.
Shake up bottle of fluid and pour it into the top of the rail. Once all the fluid has been poured in, pour in water until about an inch from the top of the towel rail. Please ensure there is a gap between the water and the top of the rail, this will allow the solution to expand when it gets hot.
Insert the element – this can be fitted on either side of your item and then tighten with a 22mm spanner never use the element head to screw into the towel rail/radiator as this may cause damage the element
Position and install the towel rail into the correct position on your wall. All of our towel rails and radiators come complete with their wall fixtures and fittings
Connect the element to the mains power using a BS IE Spur socket.
Switch the socket on and when the heated towel rail reaches its operating temperature, bleed any excess air using the air vent.
If you require any assistance with the filling or fitting of your item please do not hesitate to contact us on 0844 5046677 or by email on sales@designerbathroomstore.co.uk where one of our helpful customer service team will be happy to help